HOW TIN CANS WERE SEALED AND OPENED IN THE MID NINETEENTH CENTURY:
The most common method for filling and sealing tin cans in the period was to ...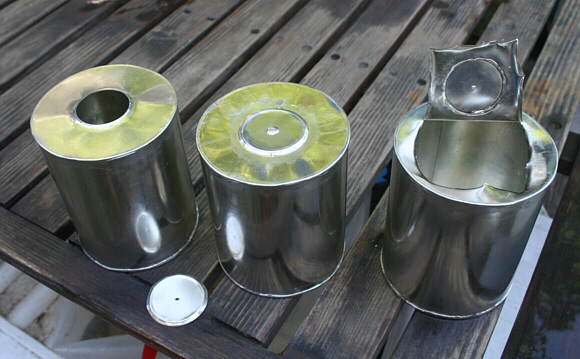 1) assemble the can with a large filling hole in the top
2) put the contents in the can
3) solder a disc with a small vent hole punched in it over the filling hole (note: sometimes the vent hole was to the side on the top of the can and the disc did not have a hole in it)
4) place the cans in a boiling bath until contents of cans are boiling and steam is escaping through the vent hole
5) seal the vent hole with a drop of solder
By the late 1870s prestamped tops and bottoms were widely available with a depression in the center to accomodate the filler cap. This allowed the cans to nest neatly and made stacking them easier.
Can openers were available in the 1860s but did not come into common use until later. Cans found in dump sites dating to the Civil War are typically opened with a blade (probably a pocket knife) by either cutting three sides to form a door, cutting an "X" in the top and folding back the resulting triangles, or cutting a circle inside the perimeter of the top of the can.
The cans in the picture above were made for an exhibit at the Genesee Country Village and Museum. Special orders for cans with authentically sealed tops can be accomodated for $8 extra per can.